We've got exciting news! Tickets for PyCascades 2022 are now available on pretix. Our ticket prices are $10 for students, $20 for enthusiasts, and $50 for professional attendees.

Why should you get a ticket, you ask? Well, other than supporting our lovely little conference, we also have a special gift- you might remember these wonderful wooden badges from years past: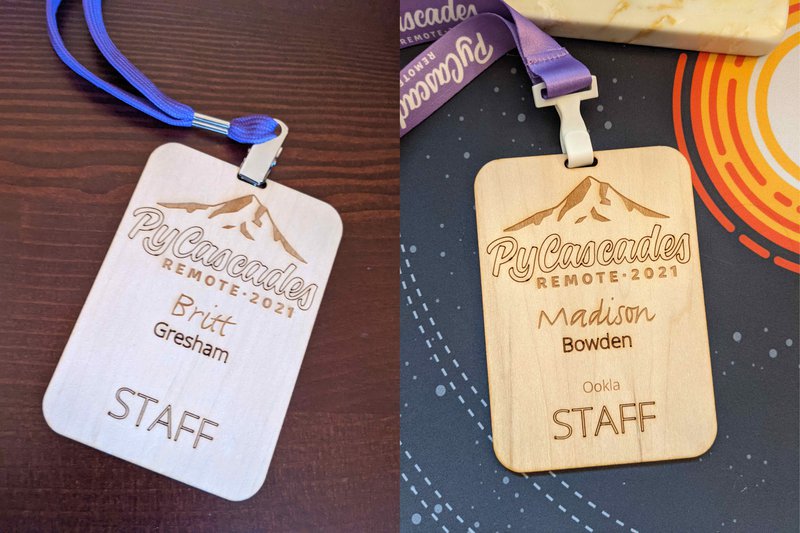 We will continue this tradition once again in 2022 and the first 150 ticket sales can sign up for our "PyCascades Attendee Kit" which comes with a wooden badge and some additional surprises that you can show off on camera during the event 🥳. Where is the money going? The conference platform, equipment needed by staff and speakers to provide quality content, and all the tools we use to put on our regional conference. Head over to pretix to get your ticket.

We recognize that regardless of price, conference tickets can be a challenge for some folks right now. Keep an eye out for our financial aid announcements, as the application will open in December.
Watch Parties 📽️
This year we're excited to announce that we hope to bring a little bit of that local conference sparkle back with in-person watch parties! These will take place in our three major cities: Seattle, WA, USA; Portland, OR, USA; and Vancouver, BC, Canada. While we want to see all your lovely faces just as much as the next Pythonista, we're taking some additional precautions with these events. Each watch party will be limited to 50 people and will follow local COVID guidelines for indoor gatherings. Participants will be required to show proof of vaccination on entry. Slots for these watch parties are limited to ensure appropriate social distancing within the venue can be maintained. Watch parties may be subject to cancellation based on local COVID regulations and/or organizer discretion; in the event of any in-person cancellation, tickets for the watch party add-on will be refunded. Watch party add-ons are $40 in addition to the price of admission.
---
Program Announcements Coming Soon
---
Sponsors 💖
We'd love your support of PyCascades. You can find more details on how to become one of our wonderful sponsors on our website or by reaching out to sponsorship@pycascades.com. 
Call for Volunteers
Just like last year, we have exciting volunteer opportunities for people interested in making this lovely conference happen! If you would like to help out, please fill out one (or both!) of the following forms. No prior experience needed and every little bit helps us keep this conference running smoothly, so sign up today! If we meet our volunteer needs for the watch parties, we would be happy to have you help out with the remote portion of the conference.

Virtual Volunteering: https://bit.ly/PyCascades2022VolunteerVirtual
In-Person Volunteering: https://bit.ly/PyCascades2022VolunteerInPerson
Last & Least
As always, reach out to us at organizers@pycascades.com if you have any questions or concerns.